Dallas-based Finley Shirts is one of a small group of designers and brands responsible for the 3% of apparel that's still manufactured domestically.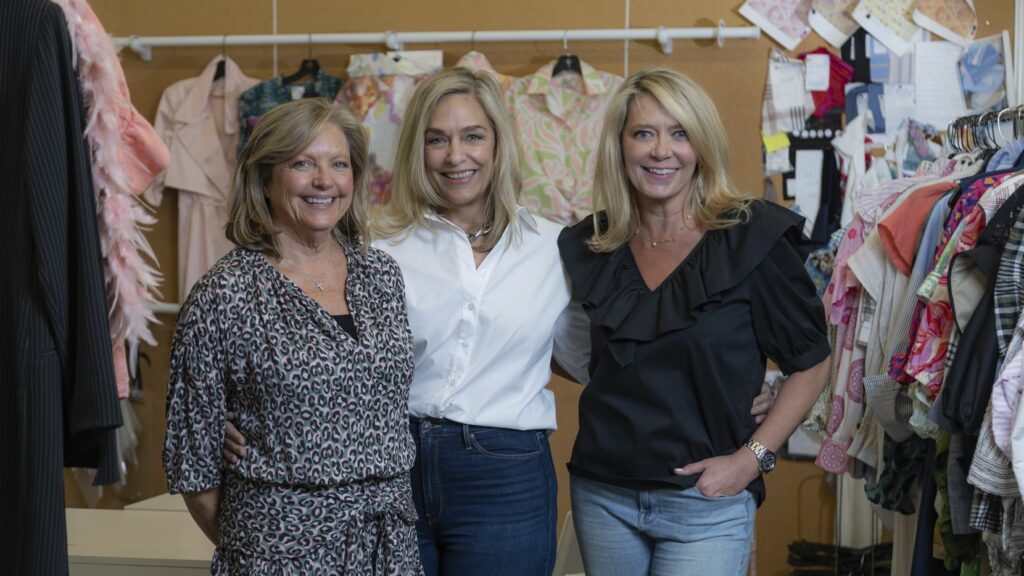 Made in the U.S.A. is almost never on anything hanging in America's closets.
You can find it on vintage clothing, but since the 1990s, when younger millennials were in diapers, more and more apparel has come from far-off factories.
Dallas is home to a rare exception.
Finley Shirts is one of a small group of designers and brands responsible for the 3% of apparel that's still made in the U.S.
Just one generation ago, 58% of clothing purchased by Americans in 1991 was made in American factories. By 2000, 70% of garments were imported, and by 2010 it was 98%.
"The mentality was to get big and go overseas, but that formula just didn't work for us," said Heather McNeill, who co-founded Finley Shirts with Dallas designer Finley Moll in 1995.
Shoppers also started buying more clothes as they began buying cheaper clothing made overseas. Consumers bought an average of 39 garments in 1991, according to industry data from the American Apparel and Footwear Association.
Starting in the 2000s, they bought an average of about 65 items a year. That's been the steady U.S. consumer appetite since, with the exception of 2020, when the number dropped because of the pandemic's stay-at-home economy.
Through all that change, Finley Shirts has been making its crisp cotton women's shirts and smart linen dresses in Dallas.
Finley produces 60,000 items a year and keeps 100 sewers employed by its longtime contractors in Arlington, Garland and Mesquite. Finley's clothing is sold in 500 stores across the U.S. such as Neiman Marcus and upscale boutiques like Tootsie's and WOLO in Dallas.
The company is proving that moderately priced apparel can be made profitably in the U.S. with a skilled workforce.
Finley's clothes retail below the luxury range, with women's shirts starting at $200 and dresses at $285.
Years ago, Finley tried overseas production. Items were lost. Shipping took a long time. Items had to be steamed and pressed after the trip. Duties had to be paid. Every part of the process took longer.
"We really didn't save that much money. You lose control. You don't have the same input," said Finley Shirts president Marty Washington. "Now our contractors bring us the product and if it's not right, we can have it fixed in two days. Once it's shipped from China, you're stuck with it."
But sewing isn't an abundant skill in the U.S., and companies are protective of their sewers. Moll said it's a competitive environment but her longtime vendor contacts, such as local representatives of European textile makers, help the company.
During the pandemic, Finley became a more important supplier to its retail customers because it could deliver.
"Anything they could do to help us, they did. We were having serious distribution issues from a lot of our European designers," said Anne Marie Daniel, co-owner with Pamela Cotter of women's boutique WOLO, which stands for West on Lovers Lane.
McNeill and Moll brought over a rack of clothing to help WOLO put on its first Instagram live sale.
WOLO has 25 to 35 vendors, but Daniel says she has a different relationship with Moll because they're in the same town. "I can tell her something in my head and say, 'We need this and we can't find it,' and Finley will figure it out."
While other vendors' merchandise was hung up in New York waiting to be shipped, McNeill and Moll were bringing over clothes already on hangers, Daniel said. "We can't keep Finley in stock.
Nerissa Von Helpenstill, Tootsie's Dallas store director, said stores were challenged not only with the uncertain supply of goods but also by the sudden demand last year.
"Our buyers had bought cautiously," Von Helpenstill said. "We turned to our go-to vendors that make in the U.S."
A New York supplier of evening gowns could fill orders faster — in about six weeks — vs. the uncertain time frames from overseas makers, she said. More casual apparel from Finley was even faster.
"Finley's summer dresses can go anywhere with a pair of sandals. We always have exceptional demand for them. But when we're running low, we can reorder and get them in two weeks," Von Helpenstill said.
Finley's core staff of eight includes Moll, McNeill and Washington, who joined the company in 2006.Moll and McNeill met after college when they were working in Dallas. The market had several apparel brands, and they decided to start their own after realizing that someone needed to make white shirts. The other brands were all making elaborate collections of clothing.
"We were an easy value-added purchase for a buyer," McNeill said. They quickly expanded into black shirts. Then French blue became a thing, and they were early to the trend. Their sizing was also simpler with small, medium, and large. Now they have started making extended sizes.
Moll designs 18 items a month, and dresses represent 50% of Finley's business.
Moll's pattern maker and sample cutter have been with her from the beginning. While the brand has had an edge in the market as supply chain issues have spoiled fashion seasons and frustrated retailers, most consumers don't notice the Made in the U.S.A. label sewn in the collar, McNeill said.
Moll mentors local students at the El Centro campus of Dallas College where she's on an advisory board. Students come through the company's workroom and office on Irving Boulevard for field trips and internships.
She's seeing a change in the new generation of designers.
"When I went to school, we all wanted to move to New York and be the next Donna Karan or at least work with her," Moll said. "Kids today want their own place in town where they can make clothes and sell them in their community.
"It's about craft. They all want to be makers and make clothing here. It's lovely and it gives me hope for our industry in the U.S."
Twitter: @MariaHalkias
Maria Halkias, Staff writer for The DallasMorning News. Maria Halkias has covered the retail scene for The Dallas Morning News since 1993. She has chronicled the stark changes in grocery, malls, e-commerce, major bankruptcies and local retail entrepreneurs.mhalkias@dallasnews.com/maria.halkias@MariaHalkiasmariahalkiashttps://www.linkedin.com/in/MariaHalkias
Source: https://www.dallasnews.com/business/retail/2022/05/12/if-your-shirt-tag-says-made-in-the-usa-it-may-be-a-finley-from-dallas/