By: AuthorAnna Stanek
There are numerous brands of high-quality cowboy boots on the market. However, there are only a handful of brands that are actually made in America.
We are taking a look at some of the best cowboy boots made in the USA for patriots. These brands offer high-quality boots in a good price range. They have options suitable for horseback riding, work, everyday wear, and formal events.
Best American Made Cowboy Boot Brands
If you are wanting to shop American-made, you are in luck as there are some great cowboy boots that are made right here in America.
The best American-made cowboy boot brands are Tony Lama, Lucchese Boots, Anderson Bean Boots, Abilene Boot Company, and Double-H Boots.
These cowboy boot brands offer durable boots made from high-quality leather and materials, all made in the United States.
Tony Lama
Since 1911, Tony Lama has been producing some of the best cowboy boots in the world. They use traditional, time-honored techniques to make all of their products.
There are over 130 steps that go into making an individual pair of boots, including hand-cutting delicate leathers. Only the best materials and craftsmanship go into making their boots at their factory in El Paso, Texas.
Lucchese Boots
Since 1883, Lucchese Boots have used skilled artisans to create high-end boots without taking any shortcuts. Every pair of Lucchese Boots are made by hand by impeccable artisan craftsmen and women. A wide variety of their boots are still made in America.
Lucchese, which originated in Texas, selects only the finest leathers for their boots and even tools the leather by hand. They also stonewash their leather and then burnish it to create a unique look with a quality finish. Not only do they use cow leather, but crocodile leather as well.
Anderson Bean Boots
For over 36 years, Anderson Bean Boots has taken a homegrown approach to the creation of its signature boots. Located in Texas, they carefully build each boot by hand with comfort and quality in mind.
Their fun, colorful boots stand out, making them the ultimate conversation starter. All of their boots are meticulously handcrafted in Mercedes, Texas, in the Rio Grande Valley. Each skilled craftsman employed by Anderson Bean Boots has a unique role in the boot-making process.
Abilene Boot Company
Since 1980, Abilene Boot Company has been making affordable quality boots for cowboys and cowgirls. With a classic western style, their boots are great for all occasions.
For their boots, Abilene uses high-quality full-grain leather. They offer different lines of boots to meet your individual style needs. The brand commits to making boots that are comfortable, practical, stylish, and won't break the bank.
Double-H Boots
Double-H Boots offers a large variety of boots that are made in America. Their American-made boots are produced in Martinsburg, Pennsylvania, where they are headquartered.
For over 50 years, Double-H has crafted innovative western works styles for cowboys and cowgirls on ranches everywhere. They ensure that all of their products are durable, comfortable, and stylish.
Best Cowboy Boots Made in USA
1. Tony Lama Dusky Bonham 3R Buckaroo Cowboy Boot
See Here on AmazonSee Here on Sheplers.com
Stand out in the crowd with these fun, fashion-forward cowboy boots. The striking red leather upper is perfect for a night of dancing or any special event
These boots have genuine leather construction that will last years of wear. The decorative stitching on the shaft has excellent attention to detail. The deep-cut collar has pull-on tabs that not only look good, but will make putting on the boots easier.
For long-lasting comfort and support, these boots have orthotic insoles to keep you feeling good on your feet throughout the day. The square toe design has a classic western look that is also comfortable for your toes.
Why We Recommend This Product:
Vibrant red shafts make a bold statement.
Made from quality genuine leather.
Orthotic insoles offer long-lasting support and comfort.
2. Lucchese Men's Shane Handmade 1883 Mad Dog Cowboy Boots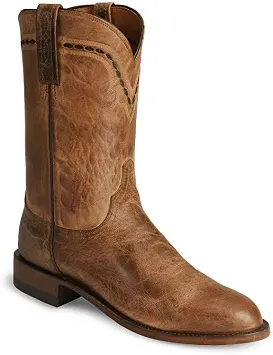 See Here on AmazonSee Here on Bootbarn.com
With a classic western look, these handmade cowboy boots make a great addition to any wardrobe. Wear them every day or dress them up with a nice pair of pants for formal events.
The round-toe design provides a comfortable and classic look. They are constructed from Madras goatskin leather which gives them a rustic look that is also durable. The stitching on the top of the shaft adds a hint of elegance.
For your comfort and support, they have a TACC insole. The roper heel and toe also make it a great option for horseback riding.
Why We Recommend This Product:
Classic western look.
Made from goatskin leather.
Perfect for riding, everyday wear, and even formal events.
3. Anderson Bean Men's Mike Tyson Bison Cowboy Boots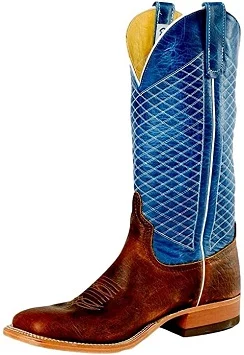 If you want a pop of color in your outfit then look no further than these fashionable cowboy boots. The stunning blue leather shaft with decorative stitching makes for a fun statement piece.
Constructed from bison leather, they have an authentic western look that will last for years. With a broad square toe, they will keep your feet comfortable for hours on end. They even feature a double stitch welt, leather outsole, and a cush-n-sole insole.
Steel shanks offer excellent arch support to provide you with stability as you walk. Instead of nails, they use wooden pegs in the sole of the boot that adjusts naturally to changes in temperature and moisture.
Why We Recommend This Product:
A vibrant blue shaft makes a great fashion statement.
Made with quality bison leather.
Comfortable, durable, and practical design.
4. Abilene Men's Bison R Toe Cowboy Boot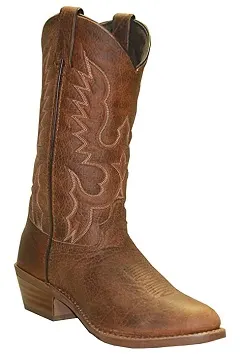 With a classic western look, these boots are made with the working cowboy in mind. They use gorgeous genuine leather that will last even the toughest cowboys.
These boots feature an air-ride comfort system with an advanced urethane cushion insole for your comfort. Even in the coldest climates, the boots will still flex at -40 degrees Fahrenheit. For when the weather is hot, the Dri-Lex lining allows moisture to escape thanks to its unique cell structure.
The round toe not only looks great, but also keeps your toes feeling good. Whether for everyday wear, work, or going out, they are a wonderful addition to your wardrobe.
Why We Recommend This Product:
The classic western look is great for all occasions.
Built with comfort in mind no matter the weather.
Made with quality bison leather.
5. Double-H Boots Ice Roper Boots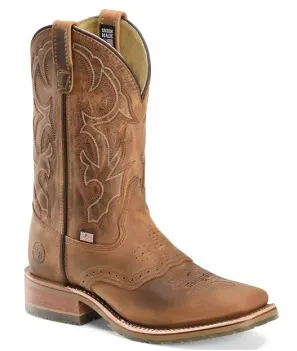 Sleek with a classic western look, these all-American cowboy boots are built for tough working wear. Made from fine leather, the shafts on these boots have beautiful decorative stitching.
For your comfort, they have a Perma-Fresh "footprint" cushion insole that gives your feet the support they need as you work. For an extra measure of support, they also include a reinforced saddle vamp. The traditional wide square toe gives your toes plenty of room to be comfortable.
The unique Oak ICE outsole is resistant to oil spills and gives you excellent traction even in rough conditions. These boots make a great option for horseback riding, construction work, or everyday wear.
Why We Recommend This Product:
Great for horseback riding and everywhere day wear.
Comfortable and durable, with great traction.
Classic western design made from genuine leather.
Why Shop American Made Boots?
There are many beneficial reasons to buy American-made cowboy boots. For starters, it supports the American economy and provides people with reliable jobs for people here in America.
Oftentimes, cowboy boots made in the USA must adhere to stricter guidelines, resulting in better quality products. Unlike imported boots, which may be made with child labor or under unsafe working conditions, companies with manufacturers in the states must meet labor standards.
Unlike in other countries where labor is outsourced, many cowboy boot manufacturers in the United States pay fair wages. This helps support fellow Americans and the local economy as well.