Customers continue to seek comfort in the transparency and reliability of pet products made in the U.S.
By Dorothy Crouch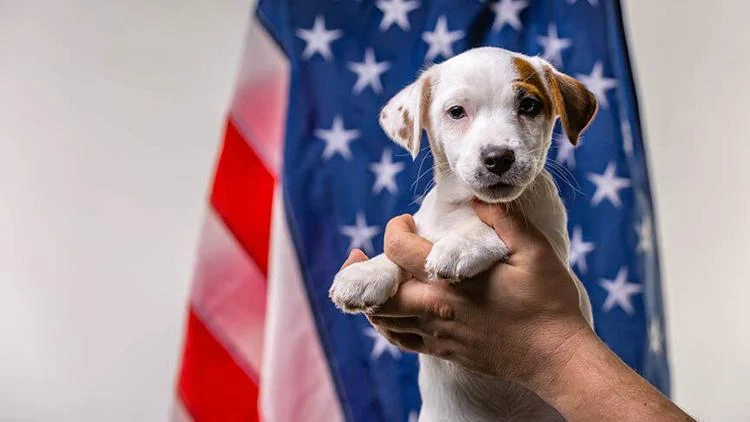 Domestically-made brands have been fielding increasing demand for Made in the USA products over the course of many years, but since 2020, the call from consumers for these products across industries has skyrocketed.
While a number of established, long-running pet brands have successfully manufactured their goods in the U.S. through existing supply chains, others face diversification challenges. Shifting manufacturing stateside can take years, a point many consumers don't recognize when demanding Made in the USA goods.
At first, consumers and brands were optimistic about 2022 being the year that sourcing issues would begin to heal from the damage caused by COVID-19. Now, due to the Russian invasion of Ukraine, additional challenges are on the horizon as sanctions on Russian goods are implemented, leading pandemic recovery to slow and to additional supply-chain shifts.
Trusting the Process
For some manufacturers of domestically produced products, being able to market their goods with Made in the USA messaging is more of a badge of pride. The inspiration for domestic manufacturing isn't completely based solely on a desire to make a better product, but also in creating goods that are different and stand out, according to Elena Kalogeropoulos, chief executive officer at Chasing Our Tails. The company views manufacturing in the U.S. as an opportunity to remain transparent, allowing consumers to trace the source of products, similar to certification such as Italy's Denominazione di Origine Controllata or Controlled Designation of Origin (DOC) that is featured on many of the country's products.
"We don't look at Made in the USA as better, we're looking at it as our own version of DOC," explains Kalogeropoulos. "It's different. We are going back to our inspirations—French, Italian culture—bœuf à la bourguignonne is from Bourgogne, France. That is why we do what we do. We're performing regional cuisine for the pet community."
A big part of the increase in demand for Made in the USA products has been the challenges felt along the supply chain since the COVID-19 pandemic hit. While conditions at ports around the U.S. have improved over 2021, the backlog has created enormous delays and caused costs to skyrocket.
"Demand for U.S. products has spiked since the onset of the pandemic, largely due to the price increases on imported products," says Nick Carter, chief revenue officer for Value Pet Supplies. "Prior to the pandemic, importing a 40-ft. container was around $3,000, now it fluctuates between $17,000 and $20,000 with very limited bookings available. This has driven up the cost of imported products, while also constraining supply."
In addition to the multiple challenges connected to importing goods at the international level, hurdles also remain stateside due to the rising costs of materials, stemming from a scarcity of workers. The shift in worker availability to move products along the supply chain has impacted both imported and domestic goods.
"The supply chain is impacted because of the lack of workers, which shifted right now because of health events…general supplies have gone up because there are less people to make this stuff," Kalogeropoulos says. "Corrugated costs money and corrugated has gone up 10 percent three times this year—so it's gone up 30 percent this year."
Manufacturing goods domestically isn't the only consideration for pet parents when purchasing supplies for their animals. If a brand fails in other areas, domestic manufacturing isn't enough to maintain its customer base among consumers who are discerning regarding their pet-product buying decisions. Domestic brands must look beyond their Made in the USA stories to retain their business.
"There are other factors of a product that attract pet parents besides being made in America," according to Kelley Bond, marketing manager for Boxiecat LLC. "Additional features include the quality of ingredients, product performance and trusted sources. Trends will continue to grow as more people become aware and acknowledge the importance of knowing where the ingredients of their pet's products are sourced."
Trending in the USA
Overall, increased interest in Made in the USA products has risen in popularity due to many factors. According to Dawn Leoso Duncan, vice president of Glo-Marr Products Inc., domestically driven trends are the result of consumers who are more informed, leading them to purchase according to their values.
"Demand has changed over time because of politics, pandemics, and consumers are more connected to markets because of the internet and how selling platforms have evolved," Leoso Duncan says. "Specific products that are in high demand would be toys and any topical products. Products that are consumed or used for overall health are in more of a demand because consumers want to trust the companies they buy from."
Among the made in America trends, companies that manufacture products domestically will enjoy a place in a specialty corner of the market, yet scarcity could be the issue that fuels their success. Brands that have existing operations within the U.S. have an advantage over other companies that are only recently exploring shifting production to a nearshoring model, which could take years to implement.
"Demand for U.S. products will continue to outpace supply for the foreseeable future," explains Carter. "Sourcing raw materials from meat processors in the U.S. is nearly impossible due to pandemic impacts on manpower and the need to keep supermarkets stocked with products meant for human consumption. There is also a lack of manufacturing capacity for products like puppy pads and diapers. Most of that production migrated to China over the past few decades."
Within the domestic-manufacturing space, there is also concern about companies that have only recently established their businesses in this segment of the market. Without the experience navigating the domestic pet-goods segment, some trusted brands worry that these new players are unfamiliar and lack experience, simply popping up to take advantage of a trend.
"Longevity in the pet industry should mean so much," says Leoso Duncan. "There are a lot of startup companies that don't have track records. Longevity should really be something pet parents are aware of. A longstanding reputation means a whole lot in an industry that continues to grow."
To avoid unreliable manufacturers in the domestic space, retailers must not simply rely on the face value of Made in the USA messaging and branding. While this could be an optimistic starting point to illustrate that a brand's values align with a retailer's commitment, retail management must perform additional research—diving in deeply—to ensure the legitimacy of domestic-manufacturing claims.
"When choosing made in America products, retailers should research the company and learn about their quality-control standards and sourcing practices to ensure they have a solid understanding of how and where the products are made," notes Bond. "Consumers are starting to see the added benefit of made in America products and the positive impact it has on local businesses/farmers, economics and the environment."
With a surge in interest for domestic manufacturing at the consumer and U.S. government levels, domestic manufacturing is increasingly receiving the support it's sought in the past. Retailers are able to do their part by digging deeper into discovering the important details regarding partners who rely on domestic-manufacturing.
By incorporating information about how companies make their products, not only in the U.S., but within local neighborhoods near where stores are located, retailers can weave brand stories into their merchandising. Using this messaging to tell the tales of products that are created through domestic production at the local level retains customers who are already dedicated shoppers in this segment and attracts new customers to the space.
"I would like to see people talk about, not only things that are Made in the USA, but a great differentiator—if your manufacturer can share with you—is finding out what states we are celebrating," Kalogeropoulos explains. "It might be a handshake between the Carolinas and Florida or Texas and Colorado. What would be a great thing is if we could celebrate our states. It could give brick and mortars a little bit of a push if they find out who in their store is from their area." PB
source: https://www.petbusiness.com/business-and-marketing/trends/prioritizing-made-in-the-usa/article_0db817b4-aeae-11ec-a800-074cf85467ff.html