PARAMUS COMPANY OCEANS OMEGA SUPPORTS A HEALTHY LIFESTYLE AT THE PRESIDENTIAL BEBATE OCTOBER 22, 2012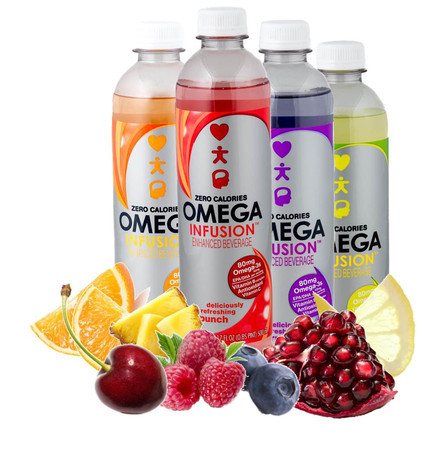 During the final Presidential debate there will be many things the parties disagree on. But the one thing that all voters support is physical fitness and a healthy lifestyle. That's why Oceans Omega is previewing the new Omega Infusion™ water for attendees who will be hosted by Lynn University in Boca Raton, FL on October 22nd.
The zero calorie and deliciously refreshing beverage, available in four flavors, contains 80mg of healthy Omega-3s (EPA/DHA) with natural energy from B vitamins and antioxidant vitamin C.
Items for giveaways are being coordinated by Made in the USA Certified to ensure they are associated with domestic companies.
Where better to sneak preview healthy water than in South Florida where people know the importance of staying hydrated! The rest of the country can expect to see Omega Infusion ™ in their favorite stores early in 2013.
FURTHER BACKGROUND
Benjamin Mamola, chief executive officer of Oceans Omega, Paramus, N.J., whose company has taken the process of putting healthy Omega 3s from the science lab to the real world, said there has been significant demand for beverages with omega-3s because it is a simple form of delivery and all people, from children to the elderly, may benefit from the nutrient.
"The average consumer doesn't necessarily understand completely the health benefits of omega-3, but they understand it's good for them," Mr. Mamola recently told the trade publication Food Business News. "So what has been demonstrated is when a product shows omega-3s in the product, it tends to get greater sell-through."
"To prevent the oxidation is the most challenging part of the omega-3 incorporation," Mr. Mamola said. "What we've done at Oceans Omega is we've developed patented and proprietary processes that stabilize the omega-3s in the beverage application so that not only does it taste incredibly good, but the shelf life is as good or better, and it's at room temperature and doesn't require refrigeration."
About Oceans Omega LLC (www.oceansomega.com)
Oceans Omega LLC, a wholly-owned subsidiary of Mycell Technologies LLC, is one of the largest suppliers of stabilized omega-3 EPA/DHA ingredients to the food and beverage markets.  Oceans Omega's liquid ingredient solutions represent exceptional advancements for incorporating and stabilizing omega-3 EPA/DHAs in food and beverages.  Oceans Omega's unique stabilization and delivery technologies provide the purest, most stable omega-3 ingredients and lead the competition in every category.  Oceans Omega's corporate offices are located in Paramus, New Jersey with manufacturing facilities in the Midwest.
About Made in USA Certified, Inc.:
MADE IN USA CERTIFIED® is the leading non-partisan, independent third party, certification company for the "Made in USA", "Product of USA" and "Service in USA" claims. The Made in USA Certified® Seals show that a company bearing these trust marks has gone through a rigorous supply chain audit to verify compliance with U.S. laws and regulations. Consumers know that when they see theses seals, the claim has been verified, tested and true. Trust but Certify!™
USA-C:NJ0AA.0131