SEN. LINDSEY GRAHAM WANTS SURGICAL MASKS TO BE MADE IN AMERICA
2 min read
CHINA DELIVERS 1.5 MILLION TO HOME STATE BY JAMES WALKER ON 4/27/20 AT 4:07 AM EDT
Republican Senator Lindsey Graham called for surgical masks to be made in the United States after 1.5 million were reportedly delivered from China to his home state on Sunday.
The South Carolina senator told the Associated Press said he did not want America to "have to rely on China or anyone else" for medical essentials amid the ongoing coronavirus pandemic.
After watching masks being unloaded at a local airport, Sen. Graham told Associated Press: "We want the masks made in the United States. We don't want to ever have to rely on China or anyone else for our basic health care needs."
He also told the news wire that he wanted the U.S. to be "much better prepared" if COVID-19 infections pick up again later this year, claiming that medical supply chain was "coming back to America."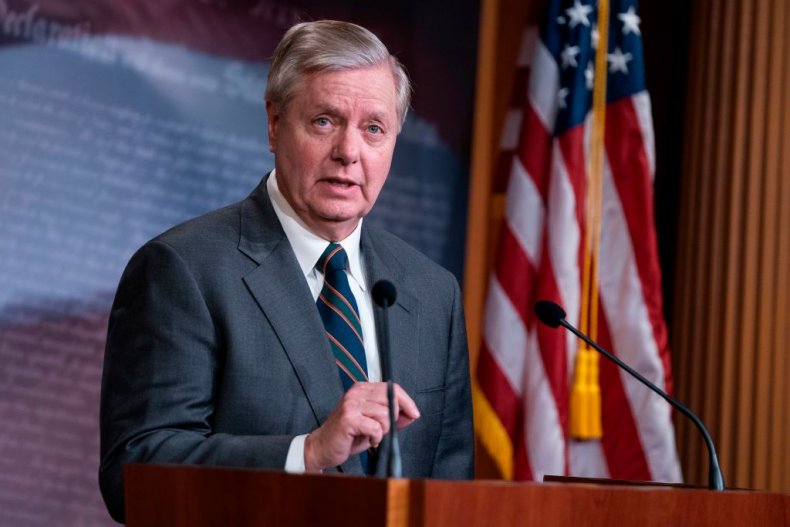 Rep. William Timmons (R-SC) also reportedly warned that a mask shipment from China would "not happen again" as supplies arrived on the tarmac.
Newsweek has contacted the office of Sen. Graham for further comment.
Sen. Graham has taken a hawkish stance on China as the number of confirmed COVID-19 cases in the U.S. has risen over the last two month, telling The View that Beijing was the "bad guy "on April 16.
"We need to stop trading with China until they change their practices around controlling pandemics and get their act together with wet markets," he added.
The congressman previously called for the world to "send China a bill" for the novel coronavirus pandemic, adding that he would make the country pay "big time" for the global outbreak.READ MORE
"We need to look at China from top to bottom, get our medical supply chain back," Graham told Fox News earlier this month.
Sen. Graham has also regularly called on China to shutter its wet markets, which are known for selling live animals such at bats, fish and other wildlife for consumption.
Reacting to the delivery of 1.5 million masks on Sunday, South Carolina Gov. Henry McMaster tweeted: "A million thanks to @Boeing, Discommon, Prisma Health, and everyone else who made today's delivery of 1,500,000 masks for our frontline workers possible—another stellar example of communication, cooperation, and collaboration in South Carolina."
According to Associated Press, the governor also thanked President Donald Trump on Sunday as he repeated that he wished to see the local economy kickstarted again.
South Carolina issued a statewide stay-at-home order on April 7, demanding that non-essential businesses such as entertainment venues be closed to prevent the spread of COVID-19.
At the time of writing, South Carolina has recorded more than 5,400 confirmed cases of COVID-19 and 174 associated deaths, according to a New York Times database.
Source: https://www.newsweek.com/graham-wants-masks-made-usa-depend-china-covid-19-1500310